My siblings left me today. They flew back to sunny CA this morning and I have to say, I was sad to see them get in the cab to head to the airport. We had such an amazing 10 days together. Traveling around the UK with your three siblings is something most people don't get to do and I am so thankful that the Fairman sibs had the opportunity to do it. With that being said, I now have some time to catch up on my blog and regale you all with the adventures that have taken place in the last week or so.
Last Saturday, the sibs and I followed the Tyne River to Tynemouth, a small town on the coast of the Red Sea. Josh couldn't come with us, he has a midterm and a final next week and so it's study study study for him. I have vowed to get him to Tynemouth at least once before we leave the UK in May. I've been to Tynemouth once before for a weekend market and if you are interested in that you can read about it
here
. However, on this particular Saturday, we were interested in eating good fish and chips, seeing the Tynemouth Priory and Castle, and enjoying a surprisingly sunny day at the coast. We took the metro from Newcastle to Tynemouth and arrived with our tummies grumbling for some fish and chips. If you live in Newcastle, then you've heard that "Marshall's: The Fryery by the Priory," is the place to go to fill the greasy fish and chips need. It is always packed with lines more than a block down the street, but we decided that since we were in Tynemouth, we would wait it out. Marshall's did not disappoint. I'm not going to say that this was the healthiest of meals, but it was definitely yummy.
Marshall's Fish and Chips
Side Note: There was also an item on the Marshall's menu called "Chips in a Bun." I kid you not, there were people seated around us eating french fries in a bun, with more french fries on the side. Strange.
After filling our bellies to the brim, we headed down the street toward the coastline. Overlooking the sea are the beautiful ruins of the Tynemouth Castle and Priory. It really is a sight to see. The ruins stand out in the small coastal town and lay at the front of the town as if protecting it from anything the sea might try to dump on it.
We payed the 4 pound charge to go inside the ruins and I think that the four of us all agreed it was worth it. They are absolutely stunning. And, there really is a lot more to see than you might think when looking at it from the outside. We went in with only an hour left before they closed. We were the last to leave, and we probably could have stayed a bit longer.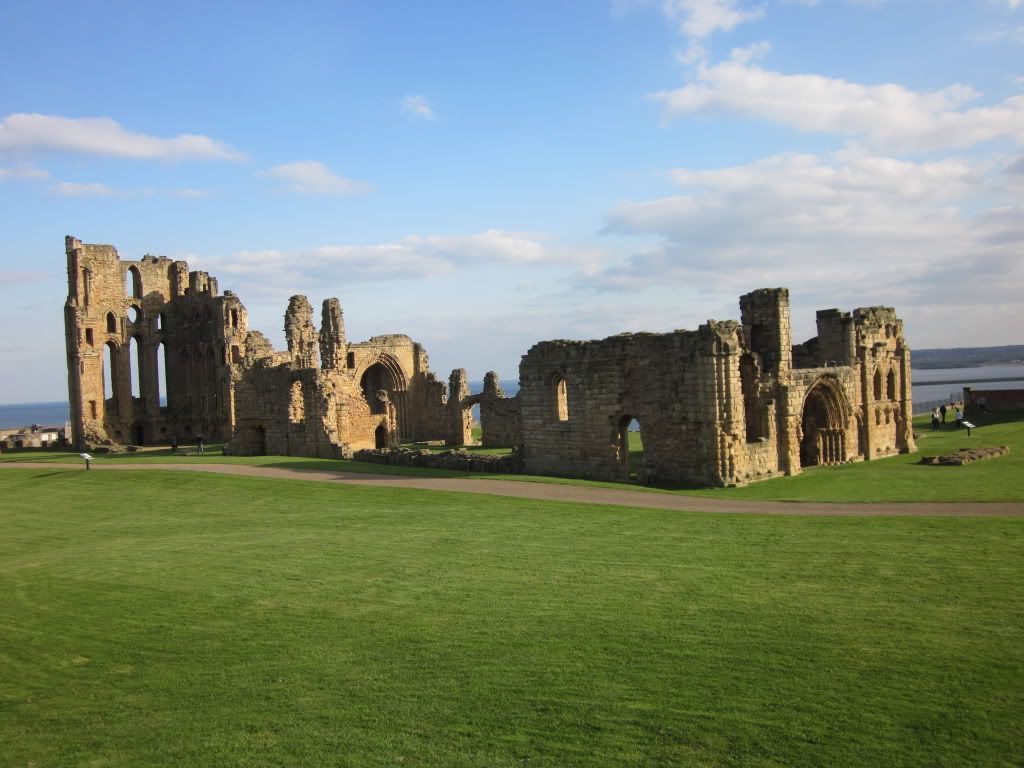 Tynemouth Priory
Having a little too much fun.
After getting our fill of the priory, we headed out to the North Pier Lighthouse. It was a little bit of a walk, but the sun was beginning to go down and the reflection on the water was just breathtaking.
Before leaving Tynemouth, we stopped at a little coffee house called Mr. Woods Coffee for some treats and a cup of joe. Then we headed back to the metro set for Newcastle. It might not have been our typical California beach day at the Pacific Ocean filled with two pieces, sandcastles, sun tan oil, and wave tag, but it was a day at the coast that none of us will soon forget.