I've had so many friends and family ask me how they can personally help with the Limes Program and the children of Grenada from a distance. Some have been able to send supplies, there have been monetary donations, and others have given their support through prayer. All of these things have been a blessing to me and the Limes Program. I can't even begin to explain how humbling it has been to have friends, family, and people I have barely been in contact with in the past 10 years come forward to try and help with what myself and many others have been trying to accomplish on this island.
But, if you have been wondering
what can I do? How can I help?
Well, here's your chance. One of the Grenadian families heavily involved in the Limes Program has a little girl named Deanna who was born without an eye. As she has grown, the socket has begun to be exposed and the chance of infection continues to become a bigger risk. A group of Doctors in Miami, FL has agreed to operate on little Deanna pro-bono but Deanna's family has very little money and cannot afford the travel expenses to get there. We are attempting to raise $5,000.00 to help the family cover flights and hotel costs associated with the surgery. Please consider donating some money toward this cause. No amount of money is too little and you are helping to completely change this little girl's life.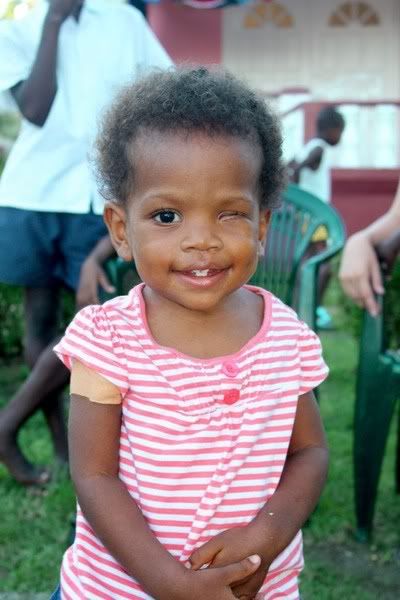 Deanna
THIS WEBSITE HAS BEEN SET UP FOR DEANNA.
The money is going into a bank account set up for her and when we raise the money, we will withdraw it and give it to the family to use for the travel costs.
For any SGU students wanting to help, there will also be a box at the Subway on campus taking donations for Deanna. Drop your change in after getting a sandwich or stop by just to put a few EC in. Every little bit helps!
Thanks to everyone who has helped support the Limes Program. You have no idea the impact you are making on these precious children.