Yep, I'll admit it. I'm STILL extremely
obsessed
fascinated by all the wedding shenanigans. I KEEP watching the tv specials. I KEEP reading the articles online. And I KEEP looking at fascinators when I walk through Eldon Square. Someone get me out of the UK before I do something crazy like buy a fascinator or try to crash a Royal Wedding so I can wear one! Just Kidding! Actually, not really.
Speaking of leaving the UK, three weeks from today, Josh and I will be flying out of Newcastle bound for the western shores of California! I can't believe we are almost done living in England and more importantly, Josh is less than two weeks away from being done with year 1 of medical school. Crazy! I am going to miss our flat and our little town of Jesmond, I'll miss walking through Jesmond Dene, but most importantly, I'll miss my BFF Julie. She has made this term in Newcastle so amazing for me.
We have become such close friends especially considering that until last November, we were total strangers. It seems like
most days
some days, we spend more time with each other than we do with our significant others, which explains why our friendship has grown so much. I seriously don't know what I will do without her once we get to Grenada in June. Luckily, she and Kevin will be meeting up with us again in January 2012 in Grenada! And if this year is any indication of how quickly our time in Grenada will fly by, then it won't seem like long before they are there too.
Anyway, back to fascinating fascinators. Julie and I had a girl's day on the town today. We had lunch in Jesmond at a quaint little cafe. After, we headed into city center for some errands and then a movie at The Gate. We saw
Water for Elephants
. It was great and I would definitely recommend it to everyone. I read the book which I think is a MUST before seeing the movie, but if you aren't really into reading, the movie is still worth seeing. While we were out
shopping
running errands, we tried on some fun fascinators at T K Maxx. Yes, it's T K Maxx, like T J Maxx. I don't know why they switch out the "J" for the "K" here but then again, I don't understand why they do a lot of the things they do here. We had lots of fun putting on the different ones.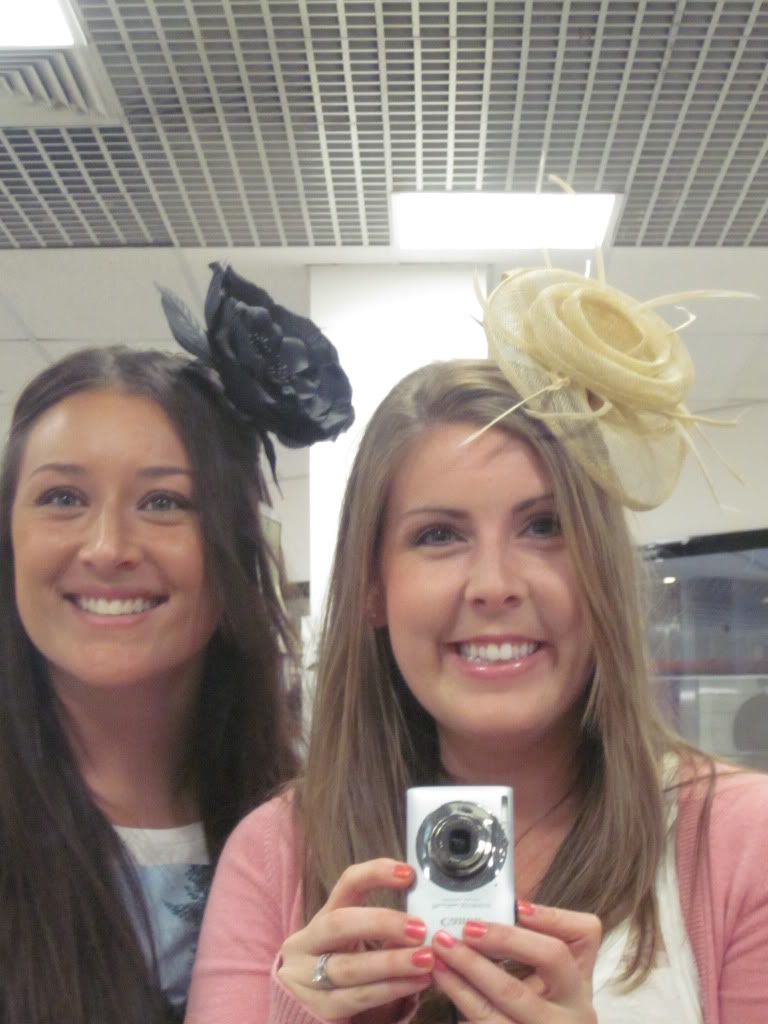 I shoulda bought it!
Notice the "TK Maxx" sign in the background.
I think I really NEED to have one of these. What do you think? A girl's necessity?!?